My Blog
Posts for tag: oral hygiene
By White Eagle Family Dentist
May 11, 2017
Not sure if your oral care routine is good enough or falling flat? Find out now!
While caring for your smile can often feel as simple as brushing your hair or showering, you may be surprised to discover that your oral care routine isn't up to snuff. If our Naperville, IL, dentist, Dr. Joon Sun, has detected more plaque and tartar buildup during your last visit, then it's time to figure out what you should be doing every day to keep your teeth and gums healthy and problem-free.
Brushing
One of the best things you can do for your teeth and gums is brush regularly. By regularly, we mean at least twice a day. Make sure to brush the front and back surfaces of your teeth, as well as the gum line and your tongue, which harbors quite a bit of bacteria responsible for bad breath. While a lot of people brush twice a day, most are not brushing as long as they need to get a thorough, effective clean. Make sure to set a timer for a minimum of 2 minutes, and start brushing those teeth!
Flossing
While brushing is great for removing plaque and food from the front and back of your teeth, your toothbrush won't be able to get in between teeth as effectively. Floss is able to dislodge food, bacteria and plaque from tight crevices between teeth and along the gumline. Flossing once a day is all you need to do in order to keep teeth and gums clean.
Your Dental Tools
While the toothbrush you choose to use (manual versus electric) is completely up to you, there are some rules you should follow. For one, your toothbrush won't last forever. If you have an electric toothbrush, you'll want to replace the toothbrush head every three to four months, or once the bristles splay out. If you have a manual toothbrush, then you'll want to just toss it and purchase another one. You will also want to toss that toothbrush head after an illness.
Limit Sugar
Most people know that sugar isn't good for them, and while enjoying the occasional brownie or ice cream cone won't hurt you, you will certainly want to limit your sugar consumption if you value your oral health. You wouldn't believe how many cavities our Naperville general dentist sees, and this problem can be avoided by staying away from sweets, sodas and sports drinks.
If you need to schedule your six-month cleaning or are concerned about changes in your oral health, then call White Eagle Family Dentistry in Naperville, IL, today. We are here for you and your family's smile every step of the way.
By White Eagle Family Dentistry
January 23, 2014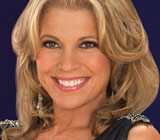 Vanna White has been a household name for the last 27+ years and is best known as the first female co-host of the game show, Wheel of Fortune. She radiates a warm, friendly, down-home appeal and says when describing herself, "what you see is what you get!" While this is quite true, there is so much more to her. She has received a star on the famous Hollywood Walk Of Fame, has starred in an NBC movie and written a book. She is even featured in The Guinness Book of World Records as TV's most frequent clapper, and most recently started her own line of yarn called Vanna's Choice with half of the proceeds going to St. Jude Children's Research Hospital. And while any one of these accolades could serve as the highlight of a lifetime for most, for Vanna they fall slightly short. Her favorite job is being mother to her son, Nicholas, and daughter, Giovanna.
The following are excerpts taken from an exclusive interview in Dear Doctor magazine, the premier oral healthcare resource for patients and consumers.
What is the secret to her dazzling smile?
Vanna's oral healthcare routine is the same today as it has been since her childhood — and one everyone can follow. She brushes her teeth at least twice a day (morning and at bedtime) and flosses her teeth daily. She also has strong feelings about flossing. "I think that flossing is the most important thing. I believe that dental floss helps a lot as it keeps your gums strong and looking younger."
What about bleaching, has she done it?
Absolutely! Vanna bleaches her teeth once or twice a year to help retain her naturally white teeth and to offset any discoloration from coffee and an occasional glass of red wine. "I have done over-the-counter and professional bleaching, but I do like the trays my dentist made because they fit perfectly." She also states, "Anything you can do professionally is probably better because I would assume that a dentist's ingredients are stronger than over-the-counter products."
Has she had any cosmetic dentistry?
When it comes to answering a question about cosmetic dentistry, Vanna is just as open and honest as she is about everything else — a trait for which she is known. "I had a bridge put in probably 30 years ago, where I had a tooth pulled and there was a space. And I did have a little tiny chip on one of my front teeth years ago that my dentist fixed. But that is it. Again, I feel very fortunate to have good teeth. The braces [from her childhood] straightened them out and there has been no need for any cosmetics since then."
Does she do anything to protect her teeth?
While she admits to occasionally forgetting to use her nightguard, a protective mouthguard worn during sleep, she firmly believes in their need. "I do sleep in a nightguard because I grind my teeth. I have a filling in the back that probably has been filled five times from grinding." She added, "Both of my children do have mouthguards that they wear for their sports."
Want a smile like Vanna's?
Contact us today to schedule an appointment or to discuss your questions about bleaching, cosmetic dentistry or mouthguards. You can also learn more about Vanna by reading the entire interview in the Dear Doctor article, "Vanna White — The Smile Defining America's Favorite Game Show — Wheel Of Fortune."
By White Eagle Family Dentistry
October 30, 2013
Florence Henderson is a multi-talented actress most recognized for her role as Carol Brady on The Brady Brunch, one of the longest-running situational comedies. In fact, this role earned her the title of America's Favorite TV Mom and her first TV Land Pop Culture Icon award, which is on permanent display in the National Museum of American History.
During an interview with Dear Doctor magazine, Henderson discussed her oral health as well as her role as spokesperson for Polident (denture cleanser) — even though she does not have dentures. Henderson attributes her beautiful, natural smile to prevention. "Flossing, brushing and regular dental checkups are vital if you want to keep your teeth," she said, adding, "I always have mouthwash, dental floss, toothpaste and a toothbrush on the set."
Similar to the great advice "Carol Brady" shared on television, Henderson's advice on oral hygiene is spot-on. We agree that an effective educational approach to oral hygiene and diet is essential to keeping teeth for a lifetime.
The first step is to ensure you have a proper brushing and flossing technique. We can go over these during your next office visit. Our goal is to ensure that you are applying the ideal amount of pressure and motion because gum tissues are soft and can easily be damaged. And you should never use a hard-bristled toothbrush or saw at your gums and teeth when brushing. The best technique is a modified, gentle scrub where you hold a well-designed, multi-tufted toothbrush at a 45-degree angle to the gum line to gently wiggle/scrub your teeth clean.
As for flossing, you should do it at least once daily to remove the plaque buildup that occurs in the protected areas between teeth where your toothbrush can't reach and where periodontal (gum) disease and dental caries (cavities) start and progress. Many people are shocked to learn that over 50% of the accumulation of plaque occurs in these areas.
To learn more about proper oral hygiene, you can continue reading the Dear Doctor magazine article "Oral Hygiene Behavior." Or you can contact us today to schedule an appointment so that we can conduct a thorough examination and discuss what treatment options will be best for you. And to read the entire interview with Florence Henderson, please see the article "Florence Henderson."