My Blog
Posts for tag: dental implants
By White Eagle Family Dentistry
August 29, 2013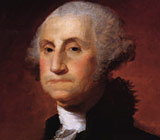 Everyone knows that George Washington wore false teeth. Quick, now, what were our first President's dentures made of?
Did you say wood? Along with the cherry tree, that's one of the most persistent myths about the father of our country. In fact, Washington had several sets of dentures — made of gold, hippopotamus tusk, and animal teeth, among other things — but none of them were made of wood.
Washington's dental troubles were well documented, and likely caused some discomfort through much of his life. He began losing teeth at the age of 22, and had only one natural tooth remaining when he took office. (He lost that one before finishing his first term.) Portraits painted several years apart show scars on his cheeks and a decreasing distance between his nose and chin, indicating persistent dental problems.
Dentistry has come a long way in the two-and-a-half centuries since Washington began losing his teeth. Yet edentulism — the complete loss of all permanent teeth — remains a major public health issue. Did you know that 26% of U.S. adults between 65 and 74 years of age have no natural teeth remaining?
Tooth loss leads to loss of the underlying bone in the jaw, making a person seem older and more severe-looking (just look at those later portraits of Washington). But the problems associated with lost teeth aren't limited to cosmetic flaws. Individuals lacking teeth sometimes have trouble getting adequate nutrition, and may be at increased risk for systemic health disorders.
Fortunately, modern dentistry offers a number of ways that the problem of tooth loss can be overcome. One of the most common is still — you guessed it — removable dentures. Prosthetic teeth that are well-designed and properly fitted offer an attractive and practical replacement when the natural teeth can't be saved. Working together with you, our office can provide a set of dentures that feel, fit, and function normally — and look great too.
There are also some state-of-the art methods that can make wearing dentures an even better experience. For example, to increase stability and comfort, the whole lower denture can be supported with just two dental implants placed in the lower jaw. This is referred to as an implant supported overdenture. This approach eliminates the need for dental adhesives, and many people find it boosts their confidence as well.
If you have questions about dentures, please contact us or schedule an appointment for a consultation. You can learn more in the Dear Doctor magazine articles "Removable Full Dentures" and "Implant Overdentures for the Lower Jaw."
By White Eagle Family Dentistry
June 13, 2013
If you've recently had a dental implant placed, congratulations! You have made a good investment in your smile that should last for a lifetime — if you take proper care of it. This is easy to do with a good oral hygiene routine and regular professional cleanings. Here are some important things to keep in mind about implant care:
Implants can last as long as teeth. A dental implant made of titanium will fuse to the bone surrounding it and function just like a natural tooth. It is a highly successful method of tooth replacement that succeeds more than 95% of the time.
Implants and natural teeth attach to surrounding bone and gums very differently. A natural tooth does not actually fuse to the bone that surrounds it. Instead, it is held in place by a periodontal ligament ("peri" – around; "odont" – tooth) made up of tiny fibers that insert into the bone on one side and into the tooth on the other. Farther up, these collagen fibers attach the tooth to the gum tissue. Implants and the crowns that go on top of them are not anchored to the gum in this way. An understanding of this biology is important for maintaining good periodontal health when implants are present. We will go over this with you so can care for your implants correctly.
Infection is the enemy. Bacterial infection is a concern with both natural teeth and implant-supported teeth. A bacterial biofilm (plaque) builds up daily on implant teeth, just as it does on natural teeth. If it is not regularly cleared away, various oral infections can develop. In the case of natural teeth, this might result in tooth decay, gum disease, and the loss of tooth-supporting bone. Implants can't decay, but they can be threatened by a rapidly progressing infection known as peri-implantits ("peri" – around; implant "itis" – inflammation), which can lead to a well-like or dish-shaped loss of bone around the implant. The implant can become loose as greater amounts of bone is lost.
Good oral hygiene is as important as ever. Daily removal of bacterial biofilm is key to preventing peri-implantitis. You'll want to make sure you brush your teeth twice daily with a soft brush and fluoride toothpaste, and floss gently at least once per day.
Your dental hygienist has an important role to play. Professional cleanings here at our dental office are also still as necessary as ever, if not more so. Dental hygienists have special instruments they use to clean areas around your implant that can't be reached by your brush or floss — without scratching the surfaces of your implant components.
If you would like more information about dental implants, please call us or schedule an appointment. You can also read more by reading the Dear Doctor magazine article "Dental Implant Maintenance."
By White Eagle Family Dentistry
January 15, 2013
Supermodel Christie Brinkley has a one-in-a-million smile, but she is just one of millions who have benefited from today's preferred tooth-replacement technique: the dental implant. In a wide-ranging interview, Brinkley told Dear Doctor magazine about a helicopter accident she suffered while back-country skiing.
"I fractured two molars in the back of my mouth and I had to get two dental implants," Brinkley told the magazine. "I am grateful for the dental implant technology that feels and looks so natural."
You might think it serves little purpose to replace a missing back tooth that was barely visible in your smile to begin with — especially if you don't spend a lot of time posing for magazine covers. But this is actually not the case. Your molars are extremely important for chewing and even for maintaining a more youthful appearance.
Dentists generally agree that losing posterior (back) teeth can have many consequences for the remaining teeth and their surrounding structures, i.e., bone and gums. If back teeth are missing, the front teeth end up bearing more stress than they were built for. And there are certain things that happen when any tooth is lost, whether front or back, that can affect function and appearance.
For one thing, when a tooth is lost the adjacent teeth tend to drift into the empty space or tip towards it. This can adversely affect your bite. Too much shifting can render a tooth basically useless and also leave it more vulnerable to gum disease.
Another complication is the loss of tooth-supporting bone that inevitably occurs when teeth are lost. When a tooth comes out, the bone under it actually begins to melt away. Since back teeth support the vertical dimension of the face, their loss can cause what's known as "bite collapse" — a reduction in facial height that becomes increasingly noticeable over time and can make you look older.
A dental implant can prevent all of these things, while providing you with a replacement that looks and feels just like the tooth you lost.
If you are interested in learning more about implants, please contact us or schedule an appointment for a consultation. If you would like to read Dear Doctor's entire interview with Christie Brinkley, please see "The Secret Behind Christie Brinkley's Supermodel Smile." Dear Doctor magazine also has more on "Replacing Back Teeth."