My Blog
Posts for: October, 2013
By White Eagle Family Dentistry
October 30, 2013
Florence Henderson is a multi-talented actress most recognized for her role as Carol Brady on The Brady Brunch, one of the longest-running situational comedies. In fact, this role earned her the title of America's Favorite TV Mom and her first TV Land Pop Culture Icon award, which is on permanent display in the National Museum of American History.
During an interview with Dear Doctor magazine, Henderson discussed her oral health as well as her role as spokesperson for Polident (denture cleanser) — even though she does not have dentures. Henderson attributes her beautiful, natural smile to prevention. "Flossing, brushing and regular dental checkups are vital if you want to keep your teeth," she said, adding, "I always have mouthwash, dental floss, toothpaste and a toothbrush on the set."
Similar to the great advice "Carol Brady" shared on television, Henderson's advice on oral hygiene is spot-on. We agree that an effective educational approach to oral hygiene and diet is essential to keeping teeth for a lifetime.
The first step is to ensure you have a proper brushing and flossing technique. We can go over these during your next office visit. Our goal is to ensure that you are applying the ideal amount of pressure and motion because gum tissues are soft and can easily be damaged. And you should never use a hard-bristled toothbrush or saw at your gums and teeth when brushing. The best technique is a modified, gentle scrub where you hold a well-designed, multi-tufted toothbrush at a 45-degree angle to the gum line to gently wiggle/scrub your teeth clean.
As for flossing, you should do it at least once daily to remove the plaque buildup that occurs in the protected areas between teeth where your toothbrush can't reach and where periodontal (gum) disease and dental caries (cavities) start and progress. Many people are shocked to learn that over 50% of the accumulation of plaque occurs in these areas.
To learn more about proper oral hygiene, you can continue reading the Dear Doctor magazine article "Oral Hygiene Behavior." Or you can contact us today to schedule an appointment so that we can conduct a thorough examination and discuss what treatment options will be best for you. And to read the entire interview with Florence Henderson, please see the article "Florence Henderson."
By White Eagle Family Dentistry
October 15, 2013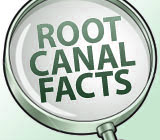 If the words "root canal" frighten you, what you probably don't know is that "root canal treatment" doesn't cause pain, it alleviates it — by treating infection deep in the root of your tooth.
What is a root canal? The central chamber of a tooth contains the living vital tissues comprising the pulp including its nerves and blood vessels. The interior of the tooth's roots containing the pulp make up its root canals.
How do I know if a tooth has a root canal infection? Symptoms of root canal infection may include sharp, intense pain when you bite down, a dull ache or pressure, or tenderness and swelling in gums near an infected tooth. There may be lingering pain after eating cold or hot foods. However, sometimes an infected tooth may stop hurting and you no longer feel pain. This doesn't mean the infection has gone, only that the nerve may have died. Make an appointment if you suspect that you have any or some of these symptoms.
Why would a tooth need root canal treatment? If the tissues in the root canal/s become infected or inflamed because of deep decay or trauma to a tooth, root canal treatment is needed to treat the infection and save the tooth. If left untreated, root canal infection can spread into the bone immediately around the root.
What takes place in a root canal procedure? After a local anesthetic is administered to numb the tooth and surrounding area, a small opening is made in the biting surface for a back tooth, or behind a front tooth. Dead and/or dying tissue is removed from the pulp chamber and the root canals are cleaned, disinfected, and sealed to prevent future infection.
What can I expect afterwards? Your tooth may feel tender or sensitive for a few days. You can take over-the-counter non-steroidal anti-inflammatory medication, aspirin or ibuprofen, for example, to relieve pain or discomfort. Contact us if you have pain that lasts more than a few days. A crown is usually needed to protect the tooth following root canal treatment. Further arrangements need to be made for this stage of the procedure. Don't chew on the affected tooth until symptoms subside and the tooth has been restored as necessary.
Who performs root canal treatment? While all general dentists have received training in endodontic treatment and can perform most endodontic procedures, in complicated situations you may be referred to an endodontist, a specialist in root canal diagnosis and treatment.
Contact us today to schedule an appointment to discuss your questions about root canal treatment. You can learn more by reading the Dear Doctor magazine article "Common Concerns About Root Canal Treatment."