My Blog
Posts for: August, 2013
By White Eagle Family Dentistry
August 29, 2013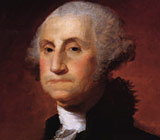 Everyone knows that George Washington wore false teeth. Quick, now, what were our first President's dentures made of?
Did you say wood? Along with the cherry tree, that's one of the most persistent myths about the father of our country. In fact, Washington had several sets of dentures — made of gold, hippopotamus tusk, and animal teeth, among other things — but none of them were made of wood.
Washington's dental troubles were well documented, and likely caused some discomfort through much of his life. He began losing teeth at the age of 22, and had only one natural tooth remaining when he took office. (He lost that one before finishing his first term.) Portraits painted several years apart show scars on his cheeks and a decreasing distance between his nose and chin, indicating persistent dental problems.
Dentistry has come a long way in the two-and-a-half centuries since Washington began losing his teeth. Yet edentulism — the complete loss of all permanent teeth — remains a major public health issue. Did you know that 26% of U.S. adults between 65 and 74 years of age have no natural teeth remaining?
Tooth loss leads to loss of the underlying bone in the jaw, making a person seem older and more severe-looking (just look at those later portraits of Washington). But the problems associated with lost teeth aren't limited to cosmetic flaws. Individuals lacking teeth sometimes have trouble getting adequate nutrition, and may be at increased risk for systemic health disorders.
Fortunately, modern dentistry offers a number of ways that the problem of tooth loss can be overcome. One of the most common is still — you guessed it — removable dentures. Prosthetic teeth that are well-designed and properly fitted offer an attractive and practical replacement when the natural teeth can't be saved. Working together with you, our office can provide a set of dentures that feel, fit, and function normally — and look great too.
There are also some state-of-the art methods that can make wearing dentures an even better experience. For example, to increase stability and comfort, the whole lower denture can be supported with just two dental implants placed in the lower jaw. This is referred to as an implant supported overdenture. This approach eliminates the need for dental adhesives, and many people find it boosts their confidence as well.
If you have questions about dentures, please contact us or schedule an appointment for a consultation. You can learn more in the Dear Doctor magazine articles "Removable Full Dentures" and "Implant Overdentures for the Lower Jaw."
By White Eagle Family Dentistry
August 14, 2013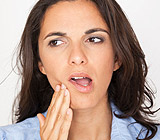 Nothing ruins a thirst-quenching cold beverage or a dish of your favorite ice cream like a sudden pang of tooth sensitivity. If you're experiencing this problem — and especially if there are other triggers, like biting down — we encourage you to make an appointment. It could be something harmless and temporary, but it's always prudent to check. At the very least, you'll feel better once the underlying problem is identified and treated if necessary.
Here are some common sources of tooth sensitivity:
Enamel erosion — typically caused by acidic beverages/food, regurgitation of stomach acids (due to gastroesophageal reflux disease [GERD] or the eating disorder bulimia), or improper brushing
Tooth decay — a sugary diet and poor dental hygiene may be contributing factors
Tooth fracture or chipping due to tooth grinding (bruxism) or other trauma
Gum recession due to age, improper tooth brushing, or gum disease
Filling that needs repair or replacement
Residual effects of recent dental work
Some things you can try at home to minimize sensitivity include:
Ease up on the toothbrush; a light touch is all that's needed to dislodge daily plaque build-up
Try using fluoride-containing toothpaste like an ointment over the affected area (fluoride decreases fluid exchange from the oral environment to the nerve inside the tooth)
Take a non-steroidal anti-inflammatory such as ibuprofen (use judiciously and according to the package insert guidelines)
Discomfort related to recent dental work should resolve on its own; give it several weeks. If you're feeling discomfort for another reason, even if the sensitivity subsides, the underlying cause may still require attention.
If you would like more information about tooth sensitivity, please contact us or schedule an appointment for a consultation. You can also learn more about this topic by reading the Dear Doctor magazine article "Sensitive Teeth."