My Blog
Posts for: April, 2013
By White Eagle Family Dentistry
April 20, 2013
Everyone knows Vanna White as the elegant co-host of the popular game show Wheel of Fortune. But here's one thing you may not know: White is listed in the Guinness Book of World Records as television's most frequent clapper, with an average of 720 claps per show — that's over 28,000 per season! And here's something else: the star with the megawatt smile wore braces as a kid, and she's not too shy to talk about it.
"I only had to wear them for a year and it was a good experience for me," she told an interviewer for Dear Doctor magazine. But when it was time for her son to get them, White noticed something different. "We used to have those silver bands that went all the way around each tooth, and they don't have that anymore. It is fascinating to see how far they have come."
We're glad she noticed! In fact, orthodontic appliances have advanced a good deal in the past decade or so. Instead of using metal bands, brackets holding the wire part of braces are now typically attached directly to the teeth with a dental adhesive. For an even less obtrusive look, ask about using colorless brackets instead of metal ones — that way, the only part that's clearly visible is the thin wire itself. And in some situations, braces can be placed on the lingual (tongue) side of the teeth, making them all but invisible.
Another type of nearly invisible appliance is the clear orthodontic aligner. The aligner system consists of a series of precision-made transparent "trays" that fit over the teeth. Each tray is worn for a few weeks, and each moves your teeth by a small amount; together, they can help correct mild to moderate orthodontic problems. And the best part — they're really hard to notice! That makes them perfect for both adults concerned about a "professional" look, and image-conscious teens.
So if you're a TV star — or if you'd just like to have a brighter and better smile — it's never too late to get started! If you would like more information about orthodontics, please contact us for a consultation. You can learn more in the Dear Doctor magazine articles "The Magic of Orthodontics" and "Clear Orthodontic Aligners."
By White Eagle Family Dentistry
April 04, 2013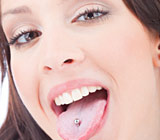 If you have to ask why anybody would voluntarily endure the pain of receiving a tongue piercing — then maybe you're just too old to understand. But seriously: no matter where you stand on the aesthetics of the issue, you shouldn't ignore the real health risks that go along with the installation of oral piercings.
According to the Journal of the American Dental Association, the most common sites for intraoral piercing are the tongue and the lip. In the case of the so-called "tongue bolt," several significant short-term and long-term risks have been identified; most also apply to other types of oral piercings as well.
The tongue is primarily composed of muscle tissue, along with a rich supply of associated blood vessels and nerves. This explains why accidentally biting your tongue can be so painful — and bloody. Installing a tongue bolt involves piercing a small hole through the tongue, and attaching the ornament through the hole.
In rare instances — such as the case of a teenager who experienced severe pain and the sensation of electrical shocks — nerve irritation and damage may occur soon after a tongue bolt is installed. (Fortunately, her symptoms cleared up shortly after the bolt was removed.) More often, the symptoms are less severe, but the health issues are chronic.
Tongue bolts are known to cause problems with the teeth, including increased sensitivity and pain. Teeth are also prone to chipping due to contact with the ornament. These are among the reasons why you are likely to need more frequent dental checkups if you have an oral piercing.
Additionally, periodontal (gum) problems can develop in individuals with oral piercings. These frequently appear as gum recession, inflammation and infection. Eventually, bone loss may occur as well.
The good news: removing an oral piercing is generally easy, and the area is quick to heal. If it doesn't seal up by itself, the hole left behind can be closed with only minor surgery. And removing the piercing immediately reduces your health risk — thus instantly improving your overall oral health.
Thinking of getting — or removing — an oral piercing? Talk to us. No matter what you decide to do, you owe it to your health to become informed about the issues surrounding these body ornaments.
If you would like more information about oral piercings, please contact us or schedule an appointment for a consultation. You can also learn more about this topic by reading the Dear Doctor magazine articles "How Oral Piercings Affect Your Oral Health," and "Body Piercings and Teeth."